Charisma Skin Blog > Top Colors for Spring 2017
Top Colors for Spring 2017
Posted on 03/07/2017 by Pam Wheeler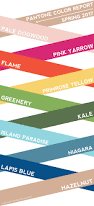 "Warm sunny days, the invigorating breath of fresh mountain air and the desire to escape to pristine waters" were part of the inspiration for the top colors for this season, according to Pantone's Spring 2017 Color Report.
This season's palette evokes hope and transformation that we look forward to each Spring. The desire to revive, restore and renew is awakened in us as we see the emerging of new life in nature all around us.
The Color of the year for 2017 is "Greenery". "Greenery signals one to take a deep breath, oxygenate and reinvigorate", say the color experts at Pantone.
As you celebrate Spring, take time for some renewal for you! Your skin needs to breathe and be revitalized, especially after a long and cold Winter! Regular professional facials help improve your skin's health and appearance, and microcurrent and oxygen facials help to increase circulation, build collagen, elastin and ATP (adenosine triphosphate, the energy of life for our cells). A series of Age-Defying Facials or Age-Defying Power Facials can significantly increase the elastin, collagen, circulation and ATP, and helps firm and tone the skin. It's like sending your face to the gym!
Restoring the healthy glow to your skin is the beginning a beautiful look, and a facial will help you start off the season looking and feeling refreshed! In-between facials, make sure you are exfoliating 1 - 3 times per week, with a product that is appropriate for your skin. I love how Charisma Skin's Micro-Mineral Resurfacing Treatment leaves the skin feeling polished and smooth!
This Spring and Summer we will see some exciting new trends in fashion and makeup as well!
---
Read More
---