Color Trend Report Fall/Winter 2021-2022
Posted on

Wed, Sep 22 2021 10:49 am

by

Pam Wheeler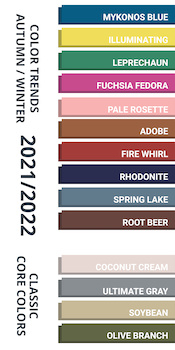 Fall/Winter 2021-2022 Color Trend Report
Hello, Fall! I love the change of seasons from the gorgeous colors of Autumn all around us, to pumpkin spice everything, to cozy sweater weather! Every Fall and Spring following New York Fashion Week, it's exciting to see what the color experts at Pantone predict in their Color Trend Report for the coming seasons. Read the full report from Pantone here:
According to Pantone, this season you'll see "Enduring and exuberant colors come together to create a palette inspiring creativity and reinvention."
"Published for the fashion industry by the Pantone Color Institute™, the trend forecasting and color consultancy, this season's report features the top ten standout colors, as well as current takes on the four core classics we can expect to see as fashion designers introduce their new autumn/winter collections.
According to Pantone Color Institute experts, colors for Autumn/Winter 2021/2022, this season's colors "emphasize our desire for a versatile range of color that embraces and accommodates the various possibilities of our bifurcated lifestyle; colors that encourage personal expression whether sensible or quirky; colors that embrace the calm and healing as well as express a rainbow of hope and joyfulness."
"Offering a range of pragmatic hues infused with vivifying bright pops, colors for Autumn/Winter 2021/2022 offer a plethora of possibilities that support our lifestyle of continual reinvention and convey a promise of reemergence," said Leatrice Eiseman, Executive Director of the Pantone Color Institute."
You will see this season's colors in fashion and makeup, and even home decor. Watch for some sensational new shades Charisma Skin will be offering in our line of makeup, coming soon!
If you are in the Portland, OR area, schedule your "Makeup Instruction Session", "Makeup Application" for a fresh look for Fall now, or schedule a complimentary 15-minute "New Look Makeup Session" to find a new favorite lip color for Fall! For every lip color, lip gloss or lip liner sold from now through October, Charisma Skin will donate $2.00 to the Susan G. Komen foundation to help women fighting breast cancer and help find a cure!
Read More
---