Spring/Summer 2019 Color Trend Report
Posted on 03/01/2019 by Pam Wheeler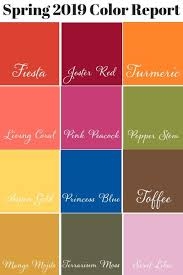 "The mindset for Spring/Summer 2019 reflects our desire to face the future with empowering colors that provide confidence and spirit; colors that are uplifting; joyful hues that lend themselves to playful expressionism and take us down a path of creative and unexpected combinations." According to Pantone's Fashion Color Trend Report for Spring/Summer 2019.
Living Coral is the "Color of the Year" for 2019, according to Pantone. You will see various shades of coral this season, and I love that there truly are versions of this color for everyone to wear and enjoy! If you are drawn to more cool tones, look for corals that tend to be more pink (think Flamingos), and if you love the warm tones, you may gravitate towards the more peachy shades of coral with a gold undertone. Corals coordinate well with basics like navy, tans and look fresh with white, as well! Corals can even transition into Fall a bit, as they may be paired with browns, which Pantone is also pointing to as a great basic for this season.
Having been trained in color analysis, I appreciate Pantone's approach to their Color Trend Reports as they incorporate both warm (yellow-based) and cool (blue based) shades so you will find colors that are flattering for all skin tones!
Charisma Skin offers a variety of beautiful shades of makeup to help you complete your look this season, like Coral Sun Mineral Blush, Ingenue Sheer Shine Lipstick, and Melon Waterproof Gel Lipliner, just to name a few! Schedule your Spring Refresh Makeup Session to update your look today!
---
Read More
---